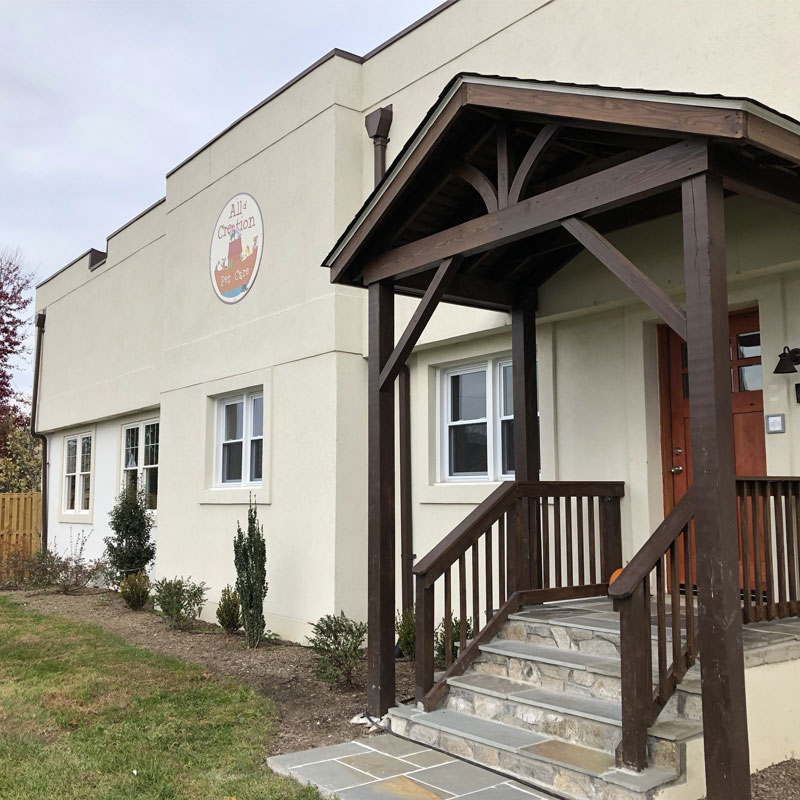 All of Creation Pet Hotel & Daycare
25072 Elk Lick Road
Chantilly, VA 20152
571-239-3199
Come sit, stay and play with us!
Our over 6,000 sq. ft pet hotel offers doggie daycare, open playtime boarding, boarding suites, cat boarding, a cat playroom, small animal boarding, outdoor access, special needs care, 24-hour staff, training, a walk-in tub for baths, nail trims and more. We also have a full service kitchen for meal preparation and food and medication storage. We are located directly across the street from a 24-hour Veterinary Hospital.
Reception Hours:  6:30 a.m. – 7:00 p.m. Daily
Doggie daycare at All of Creation is the perfect place for your dog to have playmates, companionship and supervision when other commitments take you away from home. For healthy, active, social dogs, daycare is great a great way for dogs to get exercise and engage in social enrichment. At All of Creation, dogs are divided into different playrooms according to size and temperament. Each room is taken outside multiple times a day for potty breaks, and we have three separate outdoor areas, so that the groups can still be kept separate even when outside. One of our playrooms has several couches, for dogs who enjoy the company of other dogs, but are either older and don't want to play, or who just prefer to lounge on the sidelines.
All of Creation is designed to look and feel like home, so that your pet(s) gets a comfortable and fun vacation, in a home like environment, while staying and playing with their friends. We are the only facility in the area with 24 hour full supervision, so your beloved pets are never left alone overnight. We don't charge extra for playtime, potty breaks or treats. Lots of attention and affection is always a part of their stay with us! Boarding dogs follow the same schedule as our daycare dogs, getting hours of open playtime in our playrooms and outside potty breaks. After the daytime fun, your dog will enjoy a good night sleep either in a kennel or crate in one of our climate controlled rooms. We have a separate room for cat boarding, which includes multi-level cat condos where cats from the same family can either be housed together or separately upon request. Cats are rotated in and out of the condos so they can enjoy time gazing out the window from one of the cat towers or enjoy lounging in one of the cuddle cubbies or playing with toys. We also have separate boarding areas for smaller pets, including rabbits, guinea pigs, chinchillas, reptiles and birds. 
Discounted-10 day passes available
Dogs
$52/day* + $33 each additional dog
Cats
$25/day* + $15 each additional cat
Birds & Small Animals
$25/day* +$5 each additional pet
Medication Administration – $3
Injections – $5
*Prices are per 24-hour period. A daycare fee may apply on the last day depending on pickup time.
Spa Package (all 5 services)

$65
Requirements for Daycare & Boarding
A copy of current vaccination records from your veterinarian is required. Records can be emailed to staff@creationpetcare.com. We require Distemper/Parvo (or DHLPP), Bordetella & Rabies, as well as a negative fecal from your vet (valid for one year). All vaccinations must have been given at least 72 hours before arrival. 
Pets must be spayed/neutered if over one year of age. Special exceptions may be allowed with prior approval.
Dogs must not be aggressive towards people or dogs to attend doggie daycare. Special boarding arrangements can be made for dogs that prefer not to interact with other dogs. 
Any daycare dog not picked up by 7:00 pm will be considered an overnight guest.  
If your dog is coughing, or showing any signs of illness, please do not bring him/her to daycare or boarding.
Please bring your pet's food so that they can stay on their regular diet.
Feel free to bring any beds, blankets or toys from home.  
Although we are staffed 24 hours, our reception hours for pick ups and drop offs are from 6:30 am – 7:00 pm.
We do get full for holidays, so please plan ahead. We are closed to the public for pick ups and drop offs on Thanksgiving and Christmas. We are open reduced hours (times vary) Easter, July 4th, Friday after Thanksgiving, Christmas Eve, New Year's Eve and New Year's Day. Please arrange drop-off and pick-up dates accordingly.
How Do I Make a Reservation?
If this is your pet's first visit with us, please either fill out our contact form or contact us directly at staff@creationpetcare.com or 571-239-3199. We'll then send you the intake form and request veterinary records. If you're a returning client, please contact us directly to make a reservation for boarding. All boarding reservations require a deposit. The deposit is not refundable and non transferable for any reason, since it guarantees a spot for your pet(s) and we do get fully booked, especially during holidays. Reservations are not required for doggie daycare, unless it's during a holiday.
All of Creation Pet Care is a licensed, bonded and insured company. Our staff members are all dedicated, responsible and most importantly – animal lovers! We look forward to meeting you and caring for your pets!