Pet-sitting, pet-walking, and pet-caring in Arlington, Centreville, Chantilly, Fairfax, Manassas and surrounding areas.
To get started, we need to learn more about you and your pet(s). Please

fill out our pet application

and we will contact you to answer any questions you may have and set up a consultation.

"We were very impressed with the diligence and care given to our dog, Shadow, by James and Julie. We plan to use their services again!"
Kathy

Read more quotes!

Blogroll
Meet the Owners:
All of Creation Pet Care was founded by husband and wife James and Julie Marangoni due to their mutual love and respect for all of God's creations and the desire to provide quality in-home pet care for others. Both James and Julie have extensive experience owning and caring for many different kinds of animals.
---
James grew up caring for a large assortment of animals from cats, dogs, rabbits, turtles and fish, to lizards and snakes; even chickens at one point! He has over eight years of professional pet care experience and over fifteen years of professional business management experience.
---
Julie is a Licensed Veterinary Technician with over ten years of experience working in veterinary hospitals caring for a variety of animals. Julie has also been surrounded by animals her entire life. Growing up, her family owned dogs, a rabbit, fish, a hamster, and a turtle. She enjoys horseback riding in her spare time and is very passionate about animal rescue and rehabilitation.
---
James and Julie live in Centreville, Virginia with their two children, three dogs: pit bulls Lily and Skye and a plott hound, Bruno; as well as a bearded dragon named Bam Bam.
They are passionate about the health and contentment of their pets. Therefore, that same love, quality attention, and respect their own pets receive will be shared with your pet(s).
---
Meet the Staff:
Nancy Funston
Nancy joined All of Creation in March 2012. Her experience not only includes caring for her own pets, which have included dogs, a rabbit and guinea pig, but Nancy has also cared for cats, fish, frogs and even pet mice. Nancy also has experience administering medication, doing dental care and grooming. In her free time, Nancy enjoys gardening, running, cycling and being outdoors. She has always wanted to work for a pet care company simply because animals make her happy and looks forward to loving your pets as if they are her own.
---
Alexandra "Alex" Keller (photo coming soon)
Alex starting working with the All of Creation team in October 2013. She has an extensive amount of pet care experience from working in pet stores and kennels as well as volunteering at a veterinary hospital. She grew up with dogs and cats and even has personal experience with exotic reptiles and bugs. Alex wanted to work for a pet care company so she could fill her time doing something she loves – being with animals!
---
Bobby has been a family friend for over ten years and joined the All of Creation team in November 2013. Bobby loves working with animals and always receives great reviews from clients because he's detailed oriented, is dedicated to making sure the animals are well cared for and truly loves spending time with them!
---
Taylor Ware (photo coming soon)
Taylor has been surrounded by pets her entire life, ranging from dogs and cats to rabbits and reptiles. She has worked with many animal shelters helping the community and their pets.Taylor has been with All of Creation since January 2017 and enjoys the unique atmosphere of working with a team of pet care professionals that ensure animals are cared for and loved.
---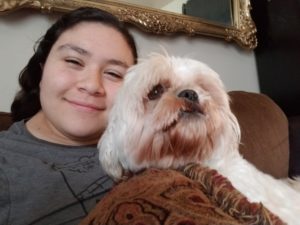 Rebekah Palza
Rebekah joined the All of Creation team in April 2017 because she knew working with animals would be a great choice since she is a huge lover of animals. She grew up caring for her own pets as well as pets in her neighborhood, so she has a lot of experience doing animal care.
---